In 1986, WEC HK was officially set up by a couple from New Zealand. They are Nan Pin & Eleanor Chee. Until now we are more than 30 years old.
WEC HK's vision is to work together with the Hong Kong Churches to plant multiplying churches among the remaining unevangelized peoples of the world.
To achieve this, we are glad to give short courses and take mission meetings to open church's eyes to world mission. Through publishing books, magazines and prayer materials to share the needs of the world, pray for missionaries and establish prayer net for the unreached people groups.
Besides, we get together with other missions to take part in meetings to promote mission on an annual basis.
All our mobilization effort is designed to see HK churches stepping forward to serve the nations, renewing and reviving.
Now we have sent over 50 long term missionaries into Asia, Africa, Middle East and South-East Asia doing pioneering and church planting work. We also have 6 short term missionaries, using one to years, going to Africa for medical work and teaching in schools for missionaries' children.
In our H.K. office, we have a team of 8 people supporting our missionaries and mission work behind the scenes. We share work on mobilization, recruitment, screening, training, caring, finance and administration.
Our goal for 2018 is to recruit 20 or more people to go out to mission fields long term. Please visit our short term mission opportunities webpage (in Chinese only), you are welcome to contact us and join our team.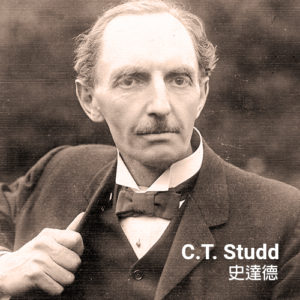 If Jesus Christ be God and died for me,
no sacrifice can be too great for me to make for him.
– Charles Thomas Studd, Founder of WEC International
WEC International History
WEC International ("Worldwide Evangelization for Christ") has always been a pioneer mission – sharing Jesus across cultural barriers where he's least known.
In 1913, Charles Thomas Studd, the England cricketer who had already served Christ in China and India, felt God calling him to pioneer a new mission. Passionate to see Africans worshipping Christ, this 53-year-old man of suspect health set sail for the heart of Africa. During the journey God told CT that his trip would not be just for Africa, but for the whole world.
God kept his word. He turned one man's crazy adventure into a mission and a movement that has since touched millions of lives. Before CT's death, teams of missionaries had joined WEC to work in Central and West Africa, Amazonia, the Middle East and the Himalayan region.
Each decade has brought fresh challenges and new opportunities for the gospel. In the past 30 years, WEC has expanded as men and women have sensed God's call to take the Gospel to the least reached in the 10/40 window.
This was CT Studd's answer to the many who said he was too old, sick and crazy to pioneer such a mission – and it continues to be WEC's motto.
WEC International takes the good news to the peoples and nations who have yet to hear it: the good news that Christ came to bring forgiveness of sins and peace with God, and to displace hatred with love. WEC is committed to finding new, creative and culturally-relevant ways of doing missions.